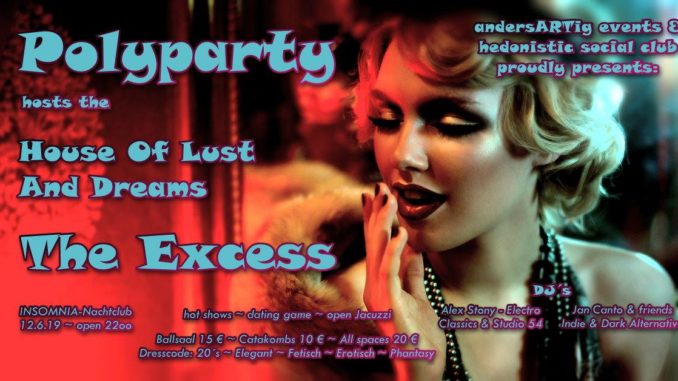 Day 1 of the double Polyparty weekend in Berlin
Atman Wiska is looking forward to celebrating the Polyparty with a new co-organizer excessively at the INSOMNIA on Friday, June 21st from 22.00 to 05.00, as it fits best for the club.
HOUSE OF LUST AND DREAMS
Last year the Polyparty was the place for Atman to offer great podium discussions and lectures. Now is the time to indulge in sensual pleasures and fat beats on two levels.
Atman will host the team of the "House of Lust and Dreams" around Brego Frey Fuchsblut with his friends from the Blaue Blume Festival with frivolous games of chance and indie-electro in the catacombs (10 Euro AK) and DJ Alex Stony aka Sendy B. on the main floor, an old hand in Techno, Electro-Classics and Studio 54 Rework, there will be a luxurious love level (no access for solo men), the whirlpool will be flooded and at midnight there will be a dating wheel of happiness. 😉
15 Euro AK advance sale Combi 15 Euro solo (also as a social ticket) and as a couple even cheaper.
Day 2 of the double Polyparty weekend in Berlin
On Saturday, June 22nd Werner Weicker organizes another classic Polyparty in a new location. This will again be the original format of the Polyparty with a lot of socializing, which Werner together with other enthusiasts and Atman started five years ago. 
Free Entry – donation requested and buffet contribution to be brought along
The venue is in Schöneberg, Monumentenstraße 13 from 19-04 o'clock at a queer club, which allows us all a carefree celebration without big costs. FREE ENTRY (Donation requested and a delicious buffet contribution please). Information and Reservation: anmeldung[at]tingeling.de or werner[at]polysalon.de.
Why not travel to Berlin for the Polyparty Weekend?
If you are coming from outside, a trip to Berlin is worth it. At Airbnb 299 rooms under 60 Euro are currently available for the Weekend. If that's not an idea…!? 
Editorially adapted text, originally by Atman Wiska and Werner Weicker. Rights of use of the picture with andersARTig UG, here with friendly permission.1Translated by Viktor with support by www.DeepL.com/Translator
In the article series Polyamory Events and Meetings in the Polyamory Magazine by Viktor Leberecht, you will find all articles about such events.
The website Viktor Leberecht - What it´s about and an overview of the contents
On the website of Viktor Leberecht, you may find:
Series of articles
General information about polyamory, polygamy and open relationship
What is Polyamory?: the English translation of the subpages is still in the works. They will give information e,g. about prejudices about polyamory, lists of polyamory events and meetings and polyamory dating websites, as well as information about polyamory science with results from research on polyamory and many other topics.
What is polygamy? the English translation of the subpages is still in the works. They will give information about, for example, prejudices about polygamy and how things really are, polygamy introductions, and polygamy science with results from research on polygamy.
What is Open Relationship? this area is still completely in the works. 
My theses on love and family free from excessive government regulation in a democratic society
In 2010 I wrote theses about the possible contribution of non-monogamy to the modern democratic society based on human rights and equal rights, which I have constantly developed further. Theses on love and family free from excessive government regulation.
Expert, Author, Speaker and Coach for Polyamory, Polygamy and Open Relationships
My offer can be found under Hire Viktor.
Please feel free to send your suggestions, they are welcome
If you have any suggestions, please send them via the contact form. There is a special form on my page For the Media.
You may also write comments on any page.